Web Tension Measurement with Tension Force Measuring Rolls
Load indicators are used for the direct measurement of the tension in cables, wires, ropes, or bands. They also undertake the tension measurement in the manufacture of corset belts, tapes and belts. As tension measuring roll are often used where the relevant machine deflection or guide rollers are provided anyway. Other applications include wire drawing lines, stranding lines etc.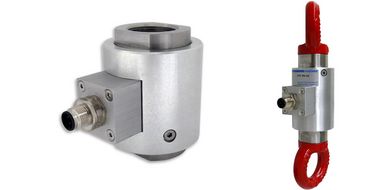 Tension and Compression Force Sensor ZK2
The new tension force sensor ZK2 is equipped on both sides with internal threads and is suitable for precise measurement of forces in rods. Using high strength eyebolts this load cell can also be used for instance between ropes for reference measurement. A use with threaded rods is also possible. The load cells ZK2 is available in 2 sizes and covers nominal force ranges from 10 kN to 100 kN.
Nominal force range 10 ... 100 kN
Material: Stainless steel and high strength aluminum
> more about

The closely graded force measuring ranges of HAEHNE narrow web tension sensors offer an optimal adaptation to the acting web tensions forces during operation. With high accuracy and integrated overload protection, they are essential for process optimization in web tension measurement systems, as in all types of tag and label machinery, filament winding and fiber processing as well as wire drawing lines and stranding machinery.