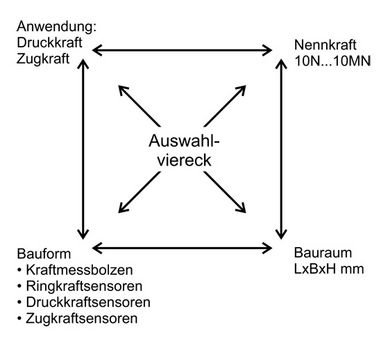 How do I choose the right force measuring sensor?
1. Selection
When selecting the force sensors, you move in a selection squar between the nominal force, application, design and size to be measured. The determinants of the quadrilateral influence each other and find their physical limits depending on their characteristics. Once you have formulated your basic considerations, we will gladly advise you on the selection of a suitable sensor.
---
2. Standard sensor
Ideally we will try to find a sensor from our standard program. If necessary, we will also inform you about possible deviations from your original request. Here is an overview of the possible changes in the force sensors:
> Special Solutions
---
3. Dimension adaption
If no suitable sensor can be found in our standard program, we would be happy to examine the possibility of adapting the dimensions to your specifications. For this you can either send us a drawing or use our inquiry forms.
---
Together with your contact details and ideally the required quantity, we look forward to your inquiry.
You did not find the right answer to your question?